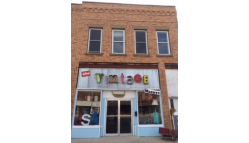 Vintage Market-Beresford
123 N. Third Street
Beresford, SD, 57004
Tel: 605-759-3883
Facebook Page:
Vintage Market-Beresford
Website:
http://www.vintagemarketberesford.com
Email:
VintageMarketBeresford@yahoo.com

Saturday 9 to 4 Sunday Noon to 4
Thank you to Everyone who has Stopped, Shopped and Shared their experience after visting the Vintage Market in Beresford.
We started our 5th year in business and pleased with the response from our customers and vendors.
Also we will be opening another 3000 square feet with the upstairs of our building. Stay tuned for more vendors moving in. Our 70+ Vendors/Consigners update their booths weekly and the inventory changes every day. Open EVERY Saturday 9am to 4pm and Sunday Noon - 4pm. Excited to Announce the Following Vendors: Rustique Kreations, Perpetually Creative, Smiling Dog Salvage, Pink Misfit, Primitive House, Stewarts Stuff, Merry Old Soul, Seasoned Style, Jeli Bug, A Little Can of Happy, Vintage Souls, Susan's Revamped Jewelry , A Unique Boutique, D&R Vintage, Days Treasures, Sylver Spoon, Thru the Window, re-kreated by Keri, 54 Some Days, Oh Joy Designs, Milesime, Better Days Salvage, Lexi's Loot, Yesteryear, Tesa's Cottage, White Shed Creations, Ramls Handmade Cards, Ole's Barnworks, Rustic Prairie, Timberland Rose, Plus Multiple Consigners that bring new items weekly.
"Like" us on Facebook for specials, updates and pictures - VintageMarketBeresford

Vintage Bridal Rentals - Booth set up to view some of the items we rent for any Occasion.