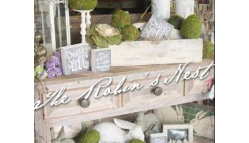 Robin's Nest-Harrisburg
108 W Willow St
Harrisburg, SD, 57032
Tel: 605-767-0191
Facebook Page:
Robin's Nest-Harrisburg
Website:
http://www.therobinsnestsd.net/
Email:
prstencil@live.com

Wednesday through Friday 11 to 5 & Saturday 10 to 5
The Robin's Nest is a unique boutique. We offer antique, vintage, new and refurbished furniture. We also sell women's clothing, home decor, interior design, and so much more...Deo Volente.
We created a new jewelry line...RR Sisters. This jewelry is unique, beautiful, and versatile.