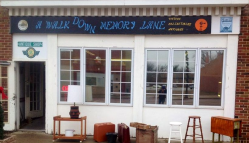 A Walk Down Memory Lane-Lennox
113 S Main St
Lennox, SD, 57039
Tel: 605-359-9688
Facebook Page:
A Walk Down Memory Lane-Lennox
Email:
AWalkDownMemoryLaneAntiques@gmail.com

Friday 12 to 3 Saturday 10 to 3 Sunday 12 to 3
We have furniture vintage, primitive, antiques used items and so much more. Two whole levels full of stuff for everyone! Come in, check us out, and fall in love with our store! We are also very easy to work with! If you think something is out of your price range we do negotiate prices!