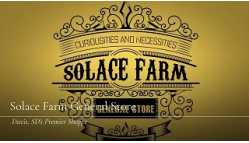 Solace Farm General Store
106 W 3rd St
Davis, SD, 57021
Tel: 605-940-0069
Facebook Page:
Solace Farm General Store
Website:
http://www.solacefarm.net/
Email:
solacefarm@aol.com

Open Saturday 7 to 4 & Sunday 8 to 5
Solace Farm is reminiscent of the General Store from days gone by with a unique variety of items, but known for our homemade jams and jellies and old time candies. Coffee, soda, groceries with wonderful gifts and treats. A seating area in the store for coffee and conversation to start your day or a bench out front for enjoying your ice cream cone (YES! We have those!) Home made yumminess is available ready for you to take home with our jams and infused sweet cream butters .
We have locally created fused glass, home decor, some antiques and unique furniture items with a little bit of country craft thrown in for fun!
Additionally on our site we will share the events in our area, informational and positive posts for your daily smile or benefit and information for shoppers/vendors for the flea markets.
Stop by and poke a bit - Or shop with us online. Not just any Mom and Pop operation, but a Mom and Pop, sister and brother-in-law with two nieces operation! We appreciate you supporting our small business!